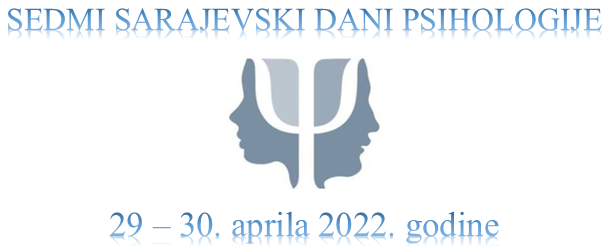 Hits: 2360
Poštovane kolegice i kolege, 
obavještavamo Vas da je produžen rok za objavljivanje radova u Zborniku VII SARAJEVSKIH DANA PSIHOLOGIJE.
Novi rok je 20.7.2022.
Srdačan pozdrav,
Uredništvo
Hits: 782
Dear colleagues,
We would like to inform you that the deadline for abstract submission to VII Sarajevo Days of Psychology has been extended up to February 20, 2022.
Kind regards,
Organization Committee
Hits: 4008
Dear colleagues,
Faculty of Philosophy at the University of Sarajevo will be the host of the scientific conference VII Sarajevo Days of Psychology, which will be held online from April 29 - 30, 2022.
The conference is organized by Department of Psychology and Centre for Psychological Research, Education, and Counseling, together with Centre for Scientific Research and Expert Activities (NIRSA).
The conference will be a great opportunity for gathering scientists and experts in psychology from Bosnia and Herzegovina and beyond. The programme will include oral presentations, poster presentations, roundtable, symposia, and workshops.
It is our great pleasure to announce two keynote lectures which will be given by internationally recognized scientists:
Love or: Attraction, Lust and Affection
Dr. Tatjana Stefanović-Stanojević, Full Professor at  Department of Psychology, Faculty of Philosophy in Niš
What can behavioral ecological analysis tell us about the evolution of psychopathy?
Dr. Janko Međedović, scientific associate at the Institute for Criminological and Sociological Research Belgrade and Associate Professor at the Faculty of Media and Communications, Belgrade, Serbia
The application deadline is January 31, 2022.
Kind regards,
Organization Committee